Local Agribusiness Developer wins National Award
Furrer's Green Cow Power Named Biogas Project of the Year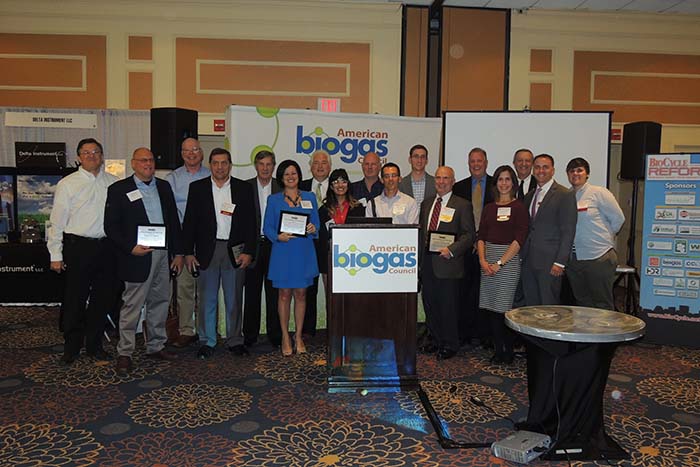 REYNOLDS, INDIANA—Brian Furrer's latest renewable energy project, Green Cow Power, has been named agricultural Biogas Project of the Year by the American Biogas Council. The award was presented at the 2015 Biogas Industry Awards Reception on October 20, 2015 in Boston, Massachusetts.
Brian Furrer, developer of Green Cow Power in Goshen, IN and Bio Town Ag located in Reynolds, IN, has been at the forefront of agricultural renewable energy projects for the last decade and is committed to finding innovative ways to use existing resources. The Green Cow Power project is a working example of sustainability that is both good for the planet and economically viable. As Brian has stated, "In the real world, sustainability in agriculture must contribute to producer profitability."
The biogas system at Green Cow Power uses organic waste from five dairies and food waste from the surrounding community to generate more than 3MW of electricity. Furrer hopes that the success of the Green Cow Power project can be used as a model for renewable energy projects across the Midwest.
Green Cow Power uses anaerobic digester technology developed by DVO, Inc. The Green Cow Power digester system collects methane biogas from the concrete digester tanks filled with organic waste; then, the methane is utilized onsite by three 1.05 MW GE Jenbacher engines to create electricity. The digester tanks also creates hot water, digested liquids (used for fertilizer), and digested solids (used for cow bedding).
About the American Biogas Council
The American Biogas Council is a national trade association representing over 200 companies who are dedicated to maximizing the production and use of biogas from organic waste. According to the American Biogas Council website, "The Biogas Industry Awards not only recognize excellent projects and innovations, they recognize great industry achievements and creative solutions to commonly faced issues that can be held out as an example to others."
About the Bio Town Ag Farm
Bio Town Ag is a 100-percent sustainable, zero-discharge, multigenerational livestock farming operation, featuring a 4.8 million gallon anaerobic digester.
Outputs from the digester include methane gas, water and a nutrient-rich fertilizer material. The gas is burned to power several on-site generators that directly put true "green" electricity on the grid, while the water, as irrigation, and natural fertilizer are applied to the row-crop fields of Bio Town Ag and other neighboring farm operations.
Bio Town Ag is an Indiana Department of Environmental Management (IDEM)-permitted organic recycling facility. It maintains organic-recycling and renewable-energy certifications.
For more information or to schedule a visit and tour of the Bio Town Ag farm, contact Bio Town Ag, 332 West 100 North, Reynolds, Indiana 47980. Call (219) 863-5915 or BioTownAg.com.
This entry was posted in Press Releases. Bookmark the permalink. Follow any comments here with the RSS feed for this post. Post a comment or leave a trackback: Trackback URL.